Reptile & Amphibian Study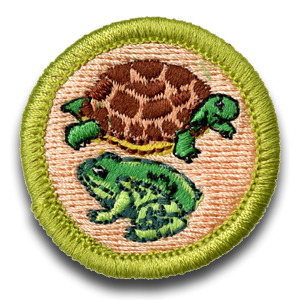 Most boys (and some girls) have always have been interested in snakes, turtles, lizards, and alligators, as well as frogs and salamanders. Developing knowledge about these captivating creatures leads to an appreciation for all native wildlife; understanding the life cycle of a reptile or amphibian and keeping one as a pet can be a good introduction to natural history; and knowing about venomous species can help Scouts to be prepared to help in case of an emergency.
Requirements & Worksheets
Complete details and worksheets for this merit badge are available here.
Prerequisites
Requirements 1, 4, 5, 6, 8, 9  and 10 MUST be completed before you attend your merit badge day class. Failure to do so may prevent you from completing your merit badge.