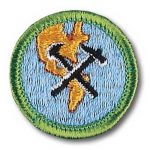 Geology is the study of Earth. It includes the study of materials that make up Earth, the processes that change it, and the history of how things happened, including human civilization, which depends on natural materials for existence.

Requirements & Worksheets
Complete details and worksheets for this merit badge are available here.
Prerequisites
None.